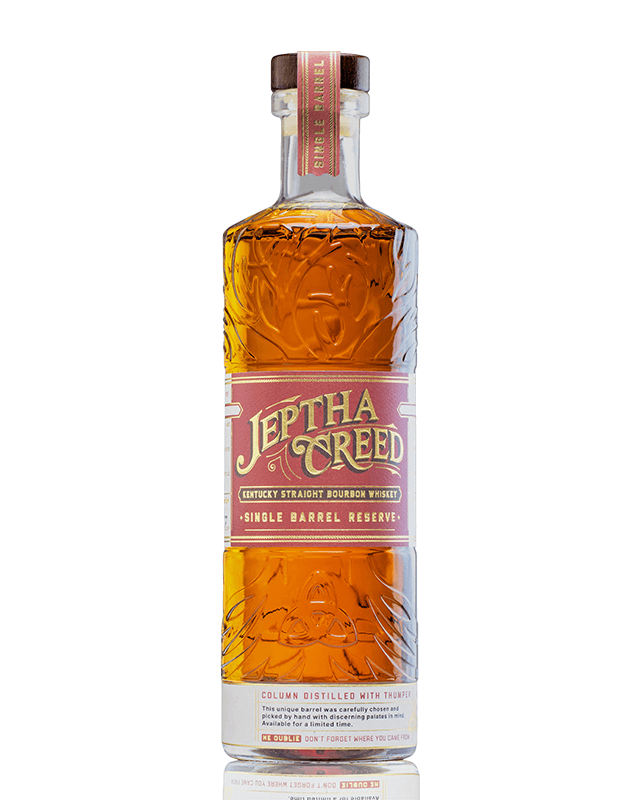 JEPTHA CREED SINGLE BARREL RESERVE
ONLY AVAILABLE VIA SINGLE BARREL PROGRAM
Take a sip of something special. Jeptha Creed Single Barrel Reserve presents an opportunity to choose a one-of-a-kind bourbon made in the spirit of craft innovation. Categorized into three distinct profiles, each barrel offers an incomparable delicacy derived from Kentucky soil.
AVAILABLE MASHBILLS
4-Grain

70% Bloody Butcher Corn
15% Malted Rye
10% Malted Wheat
5% Malted Barley
Rye Heavy
75% Bloody Butcher Corn
20% Malted Rye
5% Malted Barley
FIELDS OF BLUEGRASS

EARTHY • LEATHER • TOBACCO
An unbridled spirit roams the picturesque Kentucky countryside. Punctuated by bales of hay and heirloom crop fields, these rolling hills encapsulate a way of life. Underneath a blue sky, the sun shines bright onto Fields of Bluegrass.
KENTUCKY HOMESTEAD
ARTISANAL BREAD • HERBAL FLORAL
Step inside of the fence to the Kentucky Homestead where nourishment and comfort intertwine. Share in the wholesome warmth of family, supplemented by a crackling fire, with aromas of freshly baked bread and herbs floating in the air.
DECADENT DESSERTS
CREAMY • RICH • FRUITY
Welcome to the family table! Hopefully you saved room for a homemade confectionary masterpiece. Not to be confused with a mere sweet treat, this profile is rich and unforgettable. Elegance expresses itself in many forms, but the most memorable is that of a Decadent Dessert.