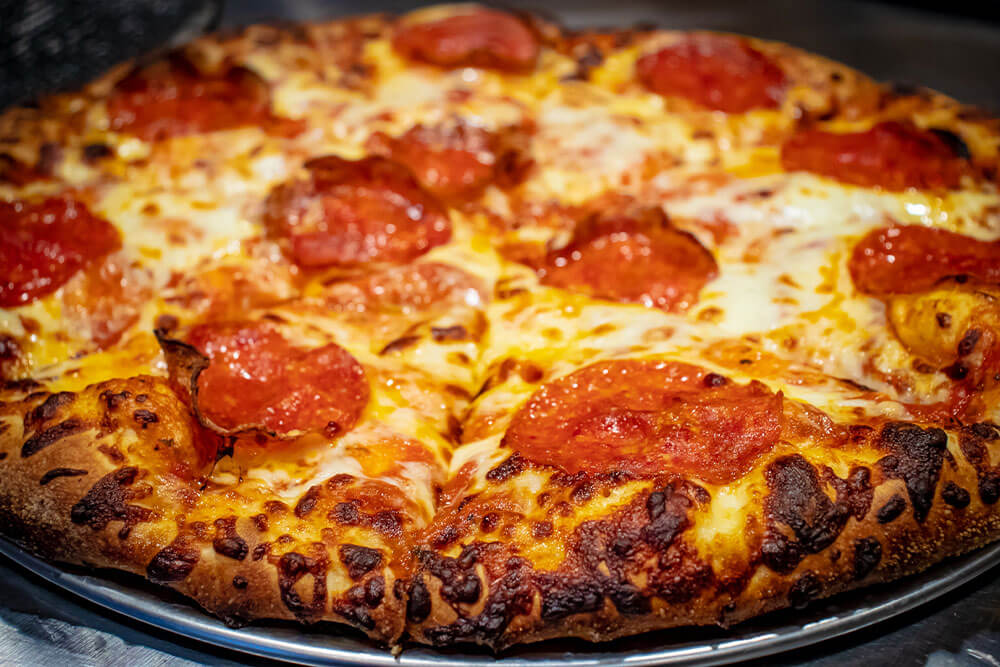 The Creed Café
The Creed Café is the perfect place to grab lunch, snacks, or small bites. Whether on you're on your lunch break, or capping off your tasting with a cocktail and one of our signature pizzas, Creed Café will satisfy your craving for delicious, wholesome food.
Reservations are not required!
Creed Café Menu
served from:
Thursday – Saturday: 11am to 6pm
Sunday: 12pm to 5pm
Jeptha Creed Distillery will be closed Easter, Thanksgiving, Christmas Eve, Christmas Day, and New Year's Day.
Snacks & Small Bites
Corn Nuts
$5
Deep fried corn kernels.
Marinated Olives
$5
Green and black olives marinated with kalamats, garlic, peppers, caper berries, olive oil, and herbs.
Artichoke Dip
$10
Parmesan, garlic and herbs, spinach, and artichokes. Served with tortilla chips.
Charcuterie Box
$20
Salami, Pepperoni, Goat Cheese, Smoked Gouda, Sharp Cheddar, Corn Nuts, Grapes, Apricot Jam, Blackberry Vanilla Moonshine Jam, Crackers
Pickle Fries
$10
Fried pickle spears served with ranch dipping sauce.
Pretzel Platter
$10
Three soft baked pretzel sticks, beer cheese, and chili mustard. Add an additional pretzel for $1.
Garlic Cheese Bread
$13
14" Cheese bread with marinara dipping sauce
Chicken Bacon Ranch Cheese Bread
$17
14" Cheese Bread topped with chicken, bacon, and ranch. Comes with marinara dipping sauce.
14`` Pizza
Cheese
$15
Tomato pizza sauce, mozzeralla, and parmesan cheese.
Pepperoni
$17
Tomato pizza sauce, pepperoni, mozzeralla, and parmesan cheese.
Sausage
$17
Tomato pizza sauce, sausage, mozzeralla, and parmesan cheese.
Meat Lovers
$20
Tomato pizza sauce, pepperoni, sausage, bacon, mozzeralla, and parmesan cheese.
BBQ Chicken Pizza
$20
BBQ Sauce, Chicken, Bacon, Red Onion, Mozzarella Cheese, Jalapeño
Gluten Free 10" Cauliflower Crust Available
Add Our Hot Pepper Flavored Vodka To Your Crust
$1
Unclosed Bar Tab Will Be Charged A 20% Gratuity Fee
PLEASE INFORM US OF ANY FOOD ALLERGIES BEFORE PLACING YOUR ORDER
*Consuming raw or undercooked meats, poultry, seafood, shellfish or eggs may increase your risk of foodborne illness.